Message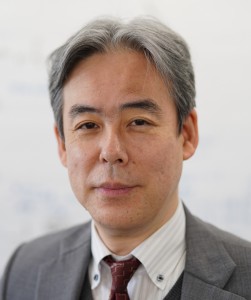 Professor
Tetsuya Ogata
,
Department of Intermedia Art and Science, Graduate School of Fundamental Science and Engineering
Coordinator for the Graduate Program for Embodiment Informatics
Current artificial intelligence technology based on deep learning is having great impacts on society with its outstanding performance in a variety of fields such as image, video, and speech recognition and generation, language translation, games, and so on. However, most applications of deep learning and AI are still confined to computers. The key issue is how to apply and implement these technologies to the real world without any problems.
In relation to this issue, the term CPS (Cyber Physical Systems) is often used. Most of the explanations are aimed at "transferring as much information as possible from the physical space to the cyber space" to realize an efficient society. In the future, this direction will certainly be important in the general framework, but at the same time, we should recognize that some things in the real world cannot and should not be transferred to the cyber space. Rather, we should be aware of the differences and boundaries between these two worlds and design them adaptively according to the dynamic context.
In fact, it is not easy to integrate cyber systems (information systems) and physical systems (mechanical systems). For example, when we look at the mathematics that forms the basis of both technologies, information systems such as AI use probability statistics to deal with discrete data, while mechanical systems such as robots use calculus to deal with continuous physical phenomena. Also, there are not many close interactions between the two academic fields.
In the future, however, it is expected that the "co-evolution" will rapidly progress: the evolution of real-world systems based on AI, and the further evolution of AI driven by real-world systems. I believe that this co-evolution will lead to the next innovation of cyber (information) systems with physical (substance). In order to achieve this, it is essential to have human resources with the ability to connect different fields such as information, communication, and mechanical systems.
Based on this concept, the Waseda University Graduate Program for Embodiment Informatics was started in 2013 where students with different specialties in science and engineering can gather in a single place called "Kobo", get to know each other, study together, gain experience in international collaboration, and co-create a new future. To date, the program has delivered a lot of outstanding graduates who are active in diverse fields. The "ability to connect different fields" nurtured in this program is not just an aspect of technology integration, but will also be important for collaboration with various humanities and social fields, such as ethics, law, business, and policy design, which will be essential for future social implementation.